<!- box:side1 -->

Courses

Automotive Technology

Building Technology

Business Management

Child Development

Cinematography & Video Production

Computer Programming

Cosmetology

Electrician (Residential & Commercial)

Electronics Technology

General Engineering

Graphic Arts & Printing Management

Health Science

Hospitality and Culinary Arts

Law, Public Safety & Security

Performing Arts

Welding & Metal Fabrication



Law, Public Safety & Security
The Law & Public Safety and Program at Warren Tech prepares students to pursue a variety of careers in the public safety industry. Students in the program go on to college, pursue careers as police officers, emergency service personnel, Wildlife, Fish Game Officers, armed forces and more.
Students learn about basic first aid, crime scene processing, CPR, report writing, forensics, crime scene investigation, evidence gathering technique, the legal system, the court system, Specialized first aid/AED including extrication, fire extinguisher use, traffic control, and power line incidents. Students in this program will complete summonses and criminal complaints along with completing the required investigative reports. Interviewing and interrogation skills will also be developed. Students participate in the simulation exercises offered by associated local officers and agents of these offices are brought in for
ancillary instruction.
Certifications such as first responder, CPR/AED,ICS 100 & 700, and HAZ-MAT can be obtained.
Pathways in Law & Public Safety
The Warren Tech Law & Public Safety Career Academy prepares students for a variety of paths upon completion of the program. Students are prepared for college, law enforcement, military, and emergency responder careers.
College Prep
Students enrolled in the Law & Public Safety Academy classes at Warren Tech are prepared for college. Many
students' pursue college degrees in law enforcement, criminal justice, and corrections programs.
Military
Las & Public Safety students are also prepared for military careers. Students will participate in activities with local military recruiters and be introduced to careers in the armed forces.
Emergency Responder Careers
Students in the Las & Public Safety Career Academy also have the track of preparing for the workforce. Students in this pathway will focus on becoming employed in the field. Students earn emergency responder certifications and network with local law enforcement agencies to become exposed to a variety of careers in public safety.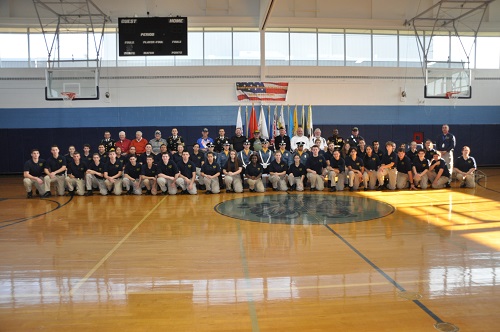 Warren County Technical School   ♦   1500 Route 57   ♦   Washington, NJ 07882   ♦   908-689-0122   ♦  Fax  908-689-7699 
Warren County Technical School does not discriminate on the basis of race, color, national origin, sex, disability, religion, sexual orientation or
age in its education programs and activities, including admission to or employment in such programs or activities.