Health Science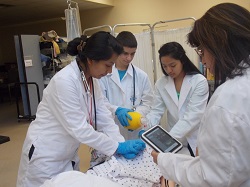 Warren County Technical School's Health Science Career Academy introduces students to the expansive career paths available in health care. The core curriculum emphasizes science, the human and organizational side of health care, and clinical experience.
The program is designed to prepare students to enter the health care work force and/or further their education that facilitates their higher educational experience. Warren County Technical School partners with Rutgers University to offer successful students the opportunity to earn college credits at no charge.
Students start with an introduction to health sciences career possibilities and an overview of anatomy and physiology. Students also gain exposure to professionals and real life experiences in the field through required shadowing opportunities.
Students in the program study medical ethics, medical terminology, medical math, anatomy & physiology, chemistry, and psychology as they prepare for post-secondary opportunities in the field. Dynamics of Health in Society, Medical Mathematics, Medical Terminology, Anatomy & Physiology I and II are thoroughly taught with incentive undergraduate credits through Rutgers University – The School of health Related Professions. Chemistry or Biochemistry is intended to be a required co-requisite.
Students enrolled in the Warren Tech Health Sciences Shop will receive a rigorous curriculum outlined by Rutgers University that prepares them with the necessary foundation to launch their future health care endeavors. Students will have the potential of earning a total of 17 undergraduate credits through Rutgers University along with 6 dual-enrollment credits through Warren County
Community College (WCCC) that might be transferrable to a lot of health related programs. Students will explore a variety of career paths within the Health Science field and prepare for future professional plans.
Pathways in Health Sciences
College Prep – Four Year Colleges & Universities
Students enrolled in the Health Sciences program at Warren Tech will be prepared for college programs in the health science field. Warren Tech has an agreement with Rutgers, providing the opportunity for students to earn college credit for course completed at Warren Tech giving students an edge as they prepare for degrees in the health care field.
Two Year Degrees/Post-Secondary Licensing Programs
Health Sciences students in this path have the option of continuing their education at two year schools such as WCCC, where they can pursue an Associate's Degree and licensing as a Registered Nurse or Medical Assistant. Students might also choose to continue in the Allied Health Programs at WCCC. Students also have the opportunity to continue their education at Warren Tech's Adult Education Post-Secondary School with automatic enrollment where they can complete their degree as a Licensed Practical Nurse (LPN). Many students follow the path of completing the LPN degree first so they can enter the workforce sooner and then transition into the more advanced nursing degrees.